Asphalt recycling is a common practice within the asphalt industry.  Typical asphalt recycling practices include 1) inclusion of removed/recycled asphalt chunks into a new batch of hot mix asphalt and 2) milling an asphalt surface and recycling it immediately for an overlay.   A practice that is not as well known is on-site, overnight recycling of asphalt for pothole repairs and utility cut maintenance.   Asphalt recycling for road repairs is a cost effective solution to maintaining potholes and utility cuts year round.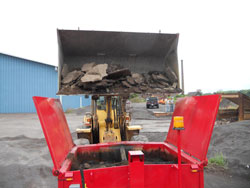 Dr. Zhanping You, P.E., Ph.D., professor of transportation engineering and materials at Michigan Technological University, has conducted extensive research on the subject of asphalt recycling.   Dr. You's research shows that, "asphalt is a 100% recyclable material," and, "asphalt is the most recycled material in the United States."
The properties of asphalt, aggregate and asphalt cement, work well together for recycling.  All that is needed to recycle asphalt is heat and an asphalt rejeuvenator (when recycling older asphalt with a low oil-content).  A rejuvenating agent adds asphalt maltenes back into the material.  Once asphalt cement reaches 180 degrees F it returns to its original pliable state.  To maintain the pliable nature of the asphalt cement, the aggregate needs to be brought up to temperature — about 290-350 degree F, depending on the regional aggregate being recycled.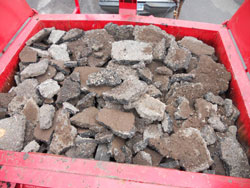 An example of an affordable, portable asphalt plant, is the Falcon RME asphalt recycler / hot box that will recycle asphalt for under $15 / ton (without the need of agitation or an auger).  (Insert picture of green dump box?).  The user loads up a Falcon asphalt recycler / hot patcher at the end of the work shift with material (asphalt chunks and millings) to be recycled, adds a rejuvenator if necessary, sets the desired recycling temperature, sets the timer to turn the machine on overnight and lets the material recycle.  In the morning there will be a fresh load of hot mix asphalt ready to go with no time wasted waiting for asphalt to be produced or time spent traveling to the asphalt plant. (insert asphalt recycling sequence pictures here?)
Using 100% recycled asphalt for road repairs is a cost effective solution to asphalt maintenance.  Asphalt recycling eliminates unnecessary waste involved in disposing of left over hot mix or torn up asphalt chunks and millings, saving its users thousands of dollars every year.
Falcon Road Maintenance Equipment manufactures asphalt recycling hot patchers ½ ton-6 ton capacity in Midland, MI.  Inc. Magazine recently recognized Falcon as the fastest growing road maintenance equipment manufacturer in the United States.  Falcon currently has equipment in 36 states and with 17 state DOT's.  Visit www.falconrme.com for more information or contact Clayton at (616) 405-3807 or clayton@falconrme.com.