In this section we will discuss the major systems of a sealcoating machine. Not all of the systems are found on each type of machine. We will inform you when one system is unique to only one type.
When learning about the different sealcoating systems on a machine you might want to keep track of which type of system would work best for the type of work you are doing. For example, if you need the ability to pump high sand volumes or distribute sealer via a squeegee machine.
Sealcoating Systems: The Material Tank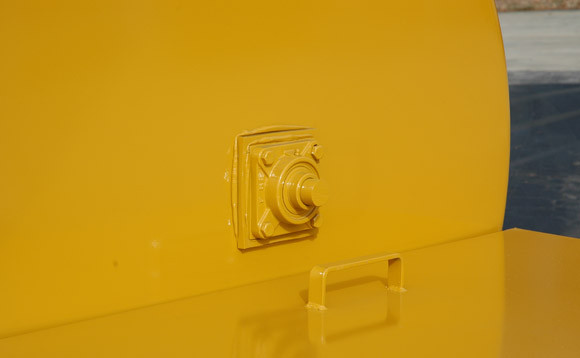 Material tanks are common to all sealcoating machines and come in different shapes and capacities. Tank capacities range from around 175 gallons up to 2,000. Sealer material tanks are typically made of either steel or polyethylene.
The majority of sealcoating equipment manufacturers today use steel tanks. Steel tank manufacturers boast of their strength and long life. Indeed, steel tanks go back as far as sealcoating machines themselves and their is no reason to feel hesitant when considering a steel tank sealcoating machine.
The main differences you will find on steel tank machines will be the wall and endplate thicknesses, and the man way size and safety features. Wall thicknesses will range between 7 to 10 gauge, while endplate or "head thickness" will typically be 7 gauge. Anywhere within this range has proven to be completely acceptable. Therefore, it isn't an issue that should hold much weight when considering a machine.
Several equipment manufacturers in the industry choose to equip their machines with polyethylene tanks. These manufacturers boast several benefits of their own, including their light weight and low cost. Other benefits manufacturers include are seamless construction, non-corrosive materials, and non-stick surface to eliminate sealer build up.
Manufacturers of steel tanks tend to issue caution for contractors thinking of buying a machine with a plastic tank, claiming the polyethylene eventually breaks down (dries out) and can crack or bust. Manufacturers of polyethylene tanks refute this criticism and claim the plastic tank has proven itself over time and can hold up to many years of use without the first problem. In fact, at least one polyethylene tank system manufacturer offers a LIFETIME warranty on its tank.
One main difference between poly tank equipment will be the thickness of the tank and it's mounting to the skid or trailer. Thicknesses of the tank walls can range from 1/4" to 5/8", and some have steel endplates for the agitation system. The mounting of the tank is a chief concern as any sort of sagging or swaying that could occur while on the road could be a huge safety issue. Be sure to look at these things before buying.
You will find that this topic can be a passionate one among contractors and manufacturers, so you will have to navigate these waters and weigh out the positives and negatives of each before making your equipment decision. Remember to take that final step of asking real contractors who have used these types of machines and found success. Chances of finding the right machine for you will be much higher.
NEXT SECTION: The Power System