May 30th 2017 – AsphaltKingdom.com has partnered with Able Industries, a leading pavement maintenance equipment manufacture based in Columbus, OH, to design a bulletproof sealcoat sprayer for the mid to pro-level contractor.
The spray system, which is designed to fit on a trailer or bed of a 3/4-ton pickup truck, sprays coal tar, asphalt emulsion, latex or acrylic sealers.
Making A Better Spray System
A common point of failure for sealcoating systems has always been the pump.  This machine incorporates a custom-designed All-Flo dual diaphragm pump, which isn't just a repurposed water pump.  It's been designed to stand up to the rigors of commercial-grade sealcoat spraying at speeds of up to 130 gallons per minute.  The pump will last three times than most name-brand pumps on the market, through use of numerous innovations like using injection-moulded balls instead of rubber balls inside the pump.  Rubber balls disintegrate over time; plastic lasts forever.
"The All-Flo pump has so much power it could suck the chrome off a doorknob!" joked Terry Mann, Director of Development at Able Industries.  "We matched the pump to a RolAir compressor designed to run 24/7, and a Honda 6.5HP 4-stroke engine.  This machine is designed to last a lifetime."
Numerous other innovations make this machine stand out, including its proprietary throttle-valve system.  When the sealcoating spray wand is shut off, the machine automatically drops its RMP to idle speed, saving equipment wear and saving fuel.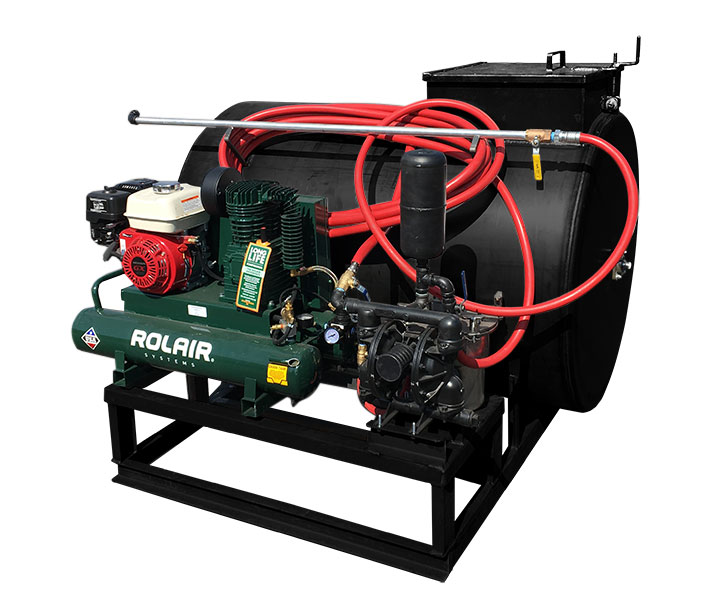 Easy to Operate, Easy to Maintain
"We've worked with thousands of sealcoaters," said Judson Burdon, President and CEO of Asphalt Kingdom, "and one common thread we kept hearing was 'Make it last and make it easy to operate.'   We challenged Able to help us do that and they really came through.  We're proud to provide this quality product to our customers."
The AK300 also features 2-to-1 gear reduction for its two-paddle manual agitation, making it easy to operate with just one hand.  Its large 20" manway cover gives easy access for refilling and cleaning.  The machine is built in Ohio.
The AK300-Air Duramax Sealcoat Sprayer is in stock and retails for $7,999 including shipping in continental USA. For more specifications and features, please visit http://www.asphaltkingdom.com/300-gallon-pick-up-sprayer.html or call 1-866-399-5562.
About AsphaltKingdom.com
Asphalt Kingdom is recognized by thousands of clients as the trusted source for asphalt and seal coat products and equipment. Founded by Judson Burdon, a successful professional seal coater, in 2004, AsphaltKingdom.com provides homeowners, franchisees and other professionals with the best prices, quality, and selection.  It has rapidly become a leading online retailer and a valuable resource for both property owners and asphalt industry professionals. For more information, go to asphaltkingdom.com.
About Able Industries
With a customer base spanning all 50 states, Able is a recognized leader for its quality products and customer service. Based in Columbus, Ohio, the company has been exclusively focused on pavement maintenance since 1938.