When Dan Miller stood in front of Steve Solomon's Morgantown, WV, Harley Davidson dealership, he saw possibility. Miller, whose business Miller Maintenance Services, LLC is just down the road in Fairmount, had been called in to do the seal coating on the newly paved 30,000 square foot parking lot.
"We were standing outside," Miller recalls, "and I said, 'you know, they make stencils that you can put on the pavement. That would look great with the Harley Davidson logo or maybe your company logo and have it stenciled right on the pavement.'"
The owner was intrigued so Miller made a few phone calls. "I contacted one of my reps in the business, and he suggested I get in touch with Terry Flaherty from Flint Trading."
Terry Flaherty, Regional Sales and Support Manager for Flint Trading, was excited when he got Miller's call. "This is exactly what we love to do," he says "They wanted something 12 feet wide to fit the entrance way of the dealership. We needed some type of artwork from them. In this case, they did give us some images."
But using a branded logo is not something that Flint Trading could do without authorization. "We had to have permission from Harley Davidson in order to reproduce the logo," Flaherty says. He was lucky. "That particular dealership, according to their contract with Harley Davidson, does allow them to use the logo and reproduce the logo and to farm out any work that might require reproduction of the logo."
Once the legalities were taken care of, then Flint Trading did its magic. "We took their original artwork, and our design and engineering team utilized computer aided processing to create the full scale design and manufacture the material required for the logo," Flaherty says.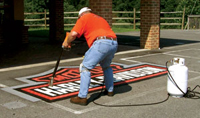 Flint Trading used their product called DecoMark®, a thermoplastic material that can hold all of the color and detail of a logo and then adhere it to asphalt. "Our core product is PreMark®, and that is the material we use for turn arrows, stop bars, and words and legends and things like that that you might find on the highway," Flaherty says. "DecoMark® material, obviously, is a decorative type material. It is similar in application and performance as PreMark®, but we are able to make DecoMark in different colors and patterns, which are interconnected to allow for easy application of multicolor components. All the user has to do is pull it out of the package, line up your seams, line up your joints, and then go ahead and proceed to melt it in as if you were putting down a turn arrow or stop bars or something like that."
Flaherty came up from his company office in Thomasville, NC, several days before and discussed placement of the logo with the owner of the dealership. "He explained to me where he would like it to be installed," Flaherty says. "He made it pretty easy because I could square it off with the concrete sidewalk right in front of his door."
The Harley Davidson logo, though, is roughly all black with highlights in orange and white. "The outer perimeter of it is black," Flaherty says. "Dan Miller was going to come in and do the seal coat around it. In order to offset it from the seal coat, we decided to add about six inches of grey trim so the black on the outside of the logo would not just blend into the black seal coat. It is pretty prominent, but at the same time it does not take away from the colors in the logo. It is a neutral grey."
When the 12 by 9 foot logo was finally ready to place, Flaherty did the installation himself on unsealed asphalt. "It took about 3 to 3 1/2 hours to do the application. The body of the logo was probably 15 to 16 pieces. If you consider all the individual grey trim that went all around the outside, too, it actually adds up to 30 some pieces….It is absolutely phenomenal how accurate they build them and how well they all fit together."

Though Flaherty had lots of experience doing brick crosswalks and turn arrows and stop bars on roads, this application was different. For these large, multi-color types of applications Flint generally recommends a special sealer be applied to the substrate. "I chose to lay out the logo in rows. Then I outlined those sections so I knew exactly where those pieces were going to sit. For instance, the top row might be five or six pieces. I went ahead and struck chalk lines and made sure everything was squared up as best as I could. I actually laid out the pieces, and then I took a magic marker like a Sharpie and lightly outlined on the pavement where those pieces fit. Then I pulled the pieces back out. I used rollers like paint rollers and just spread out the sealer. While that sealer was still wet (It takes approximately twenty minutes for it to set up), I put the material back on it and then I literally melted the material with a propane-powered torch. It is similar to the process we use when we put turn arrows down or stop bars or legends or things like that."
The product has little slits about an inch long that Flaherty calls indents. "They are one of the visual indicators you will use to know if you have melted the material enough," he says. "As you start to melt the material, they will start to close up and disappear. When they are gone, you know that you should have sufficient heat to melt the material enough to create a permanent bond."
Though this process sounds like it takes some finesse, it is really quite easy to learn. "It is not a hard process to do, but you have to be focused," Flaherty warns. "You want to make sure that you thoroughly melt the material, and that all of the edges and corners and seams are down. That is really important. Thermoplastic does not have a lot of tensile strength. It is held together by its bond to the road surface. It is really important that you do a really thorough job of melting the material at the edge. That is why I really emphasize to people that although it is very easy to learn the process, you need to be focused and disciplined."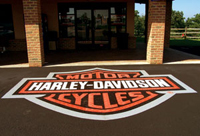 Equally careful, Dan Miller and his crew seal coated around the logo. "We taped over the top of it with plastic, and then we were able to seal right over the top of the logo. After it dried, we just pulled the plastic and tape off," Miller explains. However, he did take some added precaution. "When we do tennis courts and we tape off the lines, we have to use Stripe-Rite." Made by ThorWorks, this product is a milky white acrylic that dries clear. It is used as an emulsion primer for line striping to fill in gaps between the tape and the surface so the contractor can produce razor sharp lines. "Once you put your tape down, you take a paintbrush and go along the edges and put down the Stripe-Rite. When it dries, it dries clear and seals the gap between the tape and the pavement so nothing wicks underneath it. When we put the tape down around the logo, we put Stripe-Rite around it just for added protection. We laid down the plastic over the top of that." It took them four hours to seal coat the parking lot, which was done in the evening.
"I was impressed," Miller says. "It is heavy duty thermoplastic like they have on the stop bars the state highway department uses. It was professionally made. They had different colored pieces and the computer cut everything out and they just pieced it together like a jigsaw puzzle."
Weeks later, the logo is the talk of Morgantown. "The people I was talking to up there the other day said it was a really nice piece that just set off the building. And the building is a really nice building anyway," says Miller.
Flaherty is eager to do more of these decorative markings. "We have been doing more and more of these type of specialty items," he says, mainly for school teams and mascots.
But Flaherty is more excited about what can happen when contractors get together and start sharing. "It is just amazing when you go out and work with people, and they start coming up with all kinds of ideas," he says. "There is really not much we cannot do with thermoplastic." Though there are some limitations about how small lettering or detail can be, the possibilities for design and application are endless.
Decorative marking is definitely another add-on to improve your bottom line. Plus, it can be a great creative outlet for members of your crew who are looking to do something original or unusual.
For more articles from APE Publications go to www.alliedpavingequipment.com.