The 2010 ADA Standards for Accessible Design was accomplished as per the Department of Justice's decision to revise Titles II and III of the American with Disabilities Act (ADA) of 1990 to provide better services to individuals with disabilities. This regulation specifies minimum requirements to provide handicap-accessible parking, entrances, exits and causeways for establishments and facilities that are either newly built, renovated or remodeled on or after March 15, 2012. Non-compliant facilities and establishments can be fined and charged with a civil lawsuit not just by the local governing body, but also by the individuals with disabilities and their representatives.
In order to be compliant with the ADA requirements, certain rules and regulations apply when allotting handicap-accessible parking spaces. Appropriate stall sizes, pavement markings and allocation of the correct number of slots should be considered and followed. Here are some of the most note-worthy points that contractors need to be aware of, to ensure that a parking or garage facility that you are working on would be ADA-compliant.
Disclaimer:
The ADA established the minimum specifications and requirements enumerated below to implement accessible-friendly spaces for individuals with disabilities.
States and local governments may have different requirements or stricter specifications than those mentioned in this article. To ensure proper compliance, it is always best to check with your city or locality for specific requirements, rules and policies regarding handicap-accessible spaces before taking on a striping assignment.
Non-compliance is punishable by law and will be sanctioned accordingly. Fines ranging from $1500 to $10,000 or higher can be exacted from entities, establishments, and other involved parties if found to be non-compliant.
Designated Handicap-Accessible Parking Stalls
According to the United States Access Board, a parking facility needs to allocate a specified number of handicap-accessible parking slots based on the total number of available parking spaces. In addition, a van-accessible parking spot is required for every 6 handicap-accessible stalls per facility. This means that in a site with 25 parking stalls or less, 1 handicap-access parking space is required, and should be immediately designed as a van-accessible slot.
The table below will help you determine how many stalls need to be customized for handicap and van-accessible parking. However, there are also a few exceptions that need to be observed, such as:
A medical facility, such as a clinic or hospital, that offers outpatient services needs 10% additional accessible parking allocations for its handicapped patients and visitors.
Establishments and facilities such as rehabilitation centers that provide service and medical aid to mobility-impaired or physical therapy patients need to have 20% more handicap parking areas.
Handicap parking is not required if a parking facility is meant exclusively for buses, trucks, delivery vehicles, and law enforcement vehicles or if this site is designated as an impound lot. However, if these locations allow public access (such as retrieval of an impounded vehicle), the facilities are required to provide or designate a handicap-accessible spot that can accommodate lifts, ramps or loading/unloading zones for disabled passengers.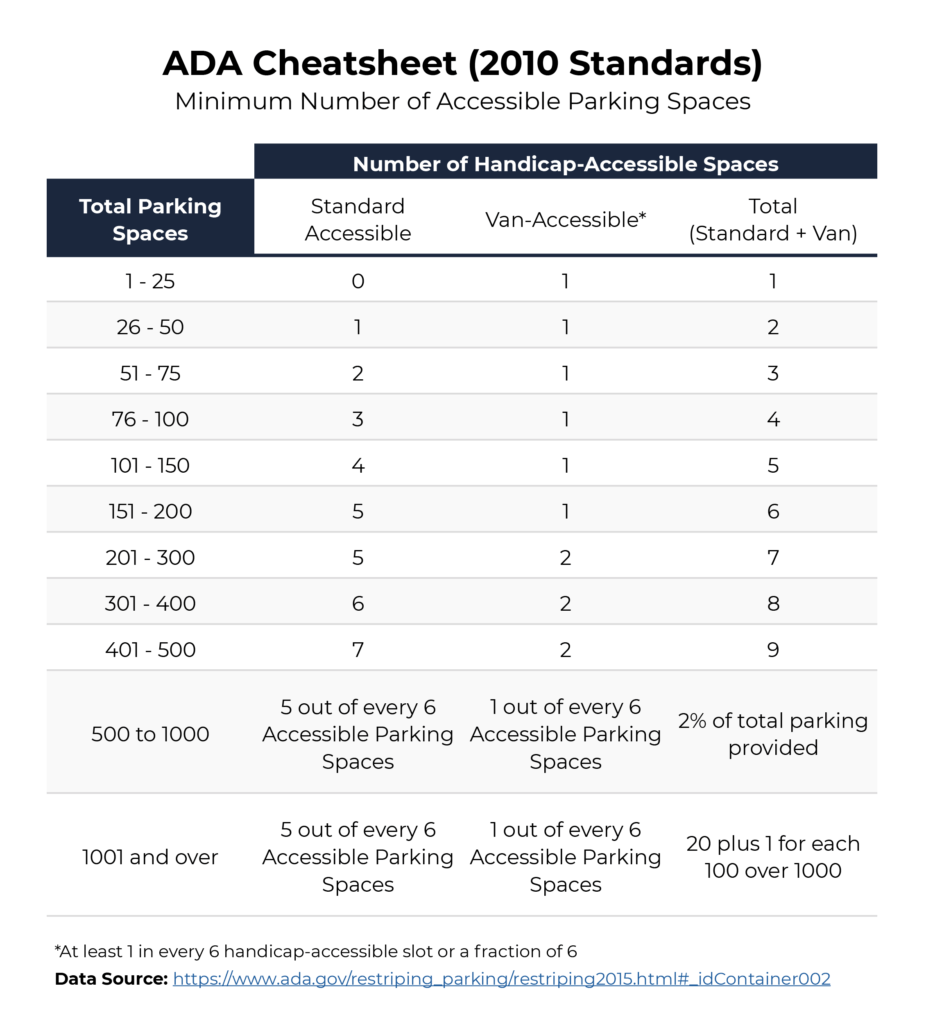 Mark Handicap-Accessible Spots with Signs
The International Wheelchair Symbol (also called International Symbol of Access) must be mounted on a pole and visibly placed at the head of each handicap-accessible parking spot. This symbol shows an individual on a wheelchair, usually painted white, and set in a blue background.
The sign should be 5 feet (60 inches) above the surface of the parking spot so that drivers and pedestrians always have an unobstructed view of it whether the stall is vacant or occupied. In addition, the signage must be placed in such a way that it doesn't get in the way of vehicles pulling in and out of the parking space. Appropriate text must be added below the handicap symbol to denote van-accessible parking spots.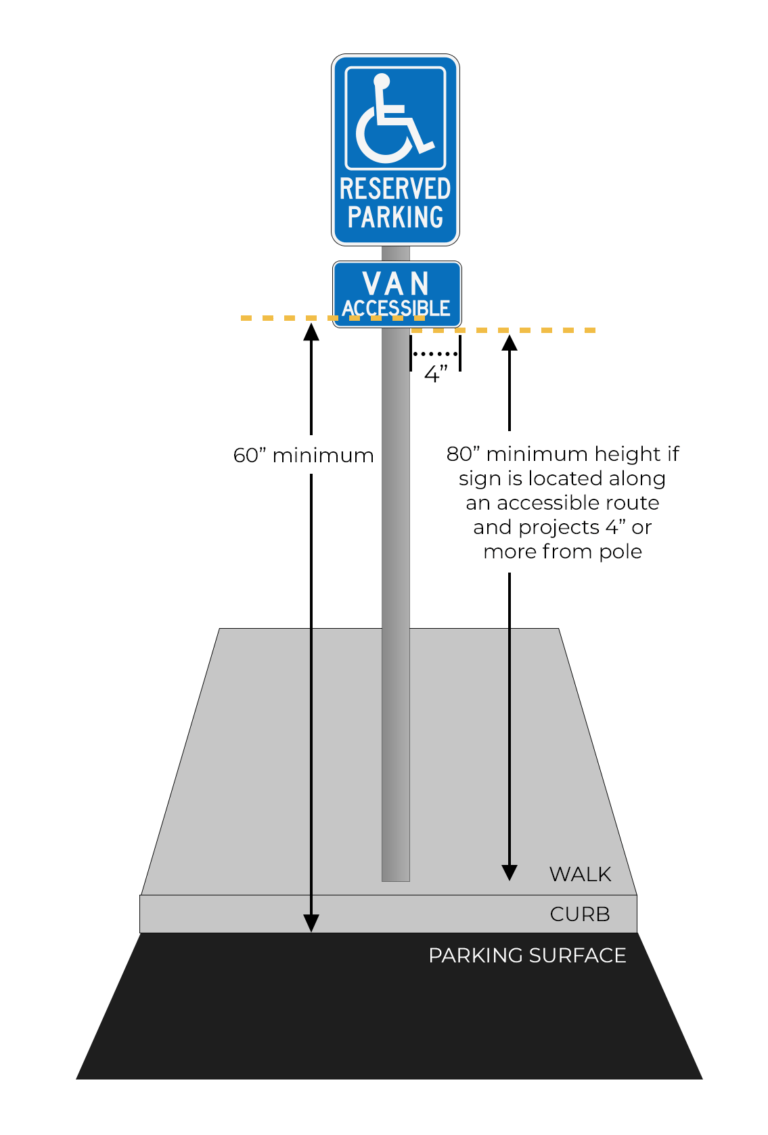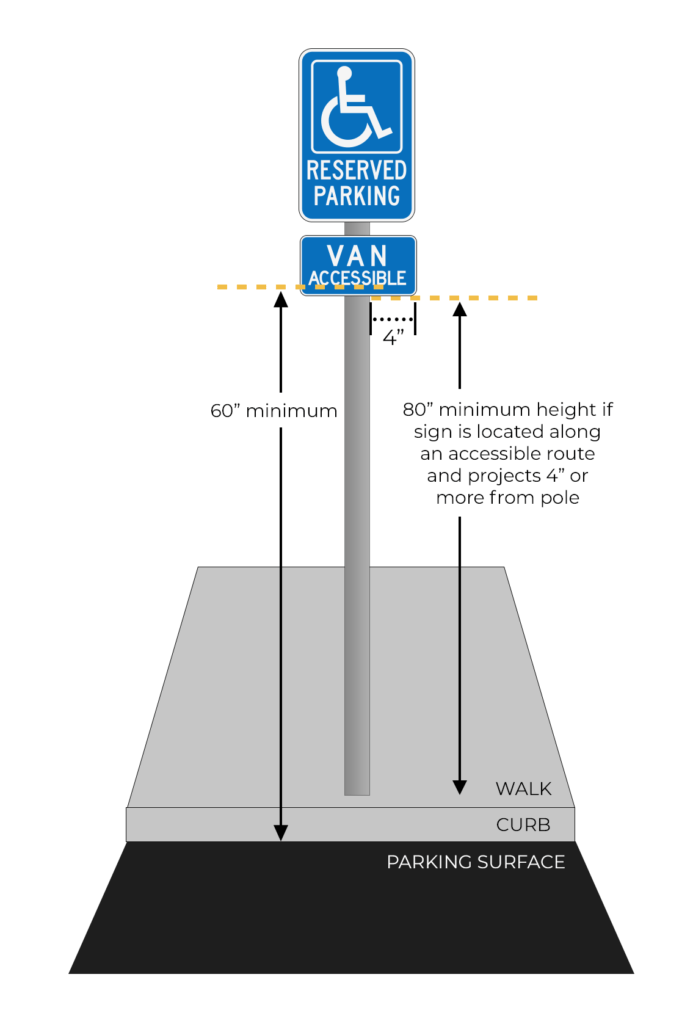 Placement of Handicap-Accessible Parking Spaces
Allocate accessible parking stalls nearest to entrances and exits of parking lots, as well as buildings or facilities they service. This is to make sure that drivers and passengers with mobility-impairment have ease of access and right-of-way when entering or exiting parking sites, buildings and related premises. It is also important to identify and assign parking spaces that directly lead to entryways, entrances and exits that are handicap-accessible to further promote convenience. Railings, fences, and other forms of potential obstructions should be removed or repositioned appropriately.
Specifications for Accessible Parking Stall Size and Pavement Markings
Minimum requirements for standard accessible parking are as follows: 8 feet (96 inches) wide and should be the same length as normal parking stalls. A 5-foot (60-inch) access aisle should immediately adjoin the parking spot. This aisle is meant to provide additional space for drivers or passengers using mobility aids, wheelchairs, walkers or medical chairs.
Van-accessible stalls should be wider at 11 feet (132 inches). However, it is also possible to narrow the actual parking slot to 8 feet (96 inches), so long as the adjacent access aisle is enlarged to 8 feet (96 inches) instead of the customary 5 feet (60 inches). The access aisle should be placed typically where the passenger side of the van deploys wheelchairs, lifts or motorized chairs.
Another specific requirement for van accessible spaces, adjoining aisles and routes is the vertical clearance. This clearance should be at least 8.17 feet (98 inches) high to properly accommodate these modified vehicles.
Handicap-accessible parking spaces are normally painted in blue and white, however, other traffic colors such as red, green and yellow can also be used. The main purpose is to ensure that the accessible parking spot and its corresponding symbols and markings should stand in contrast to the color of the pavement.
To prevent incorrect parking on access aisles, it should be properly marked with either diagonal or crisscross hatch marks. Painting the pavement surface with a "No Parking" symbol or text is also allowed. Generally, hatch marks are applied using white paint.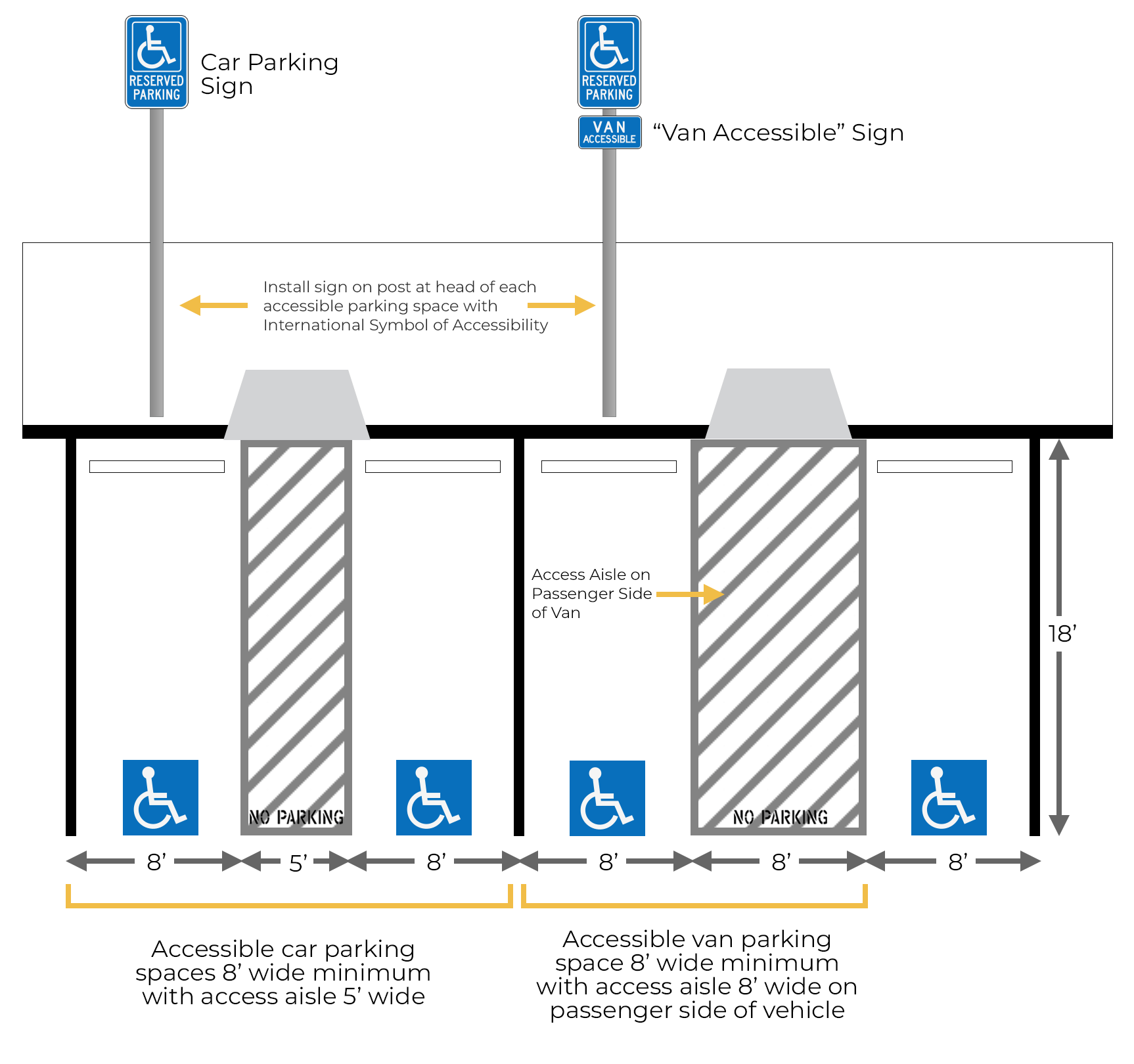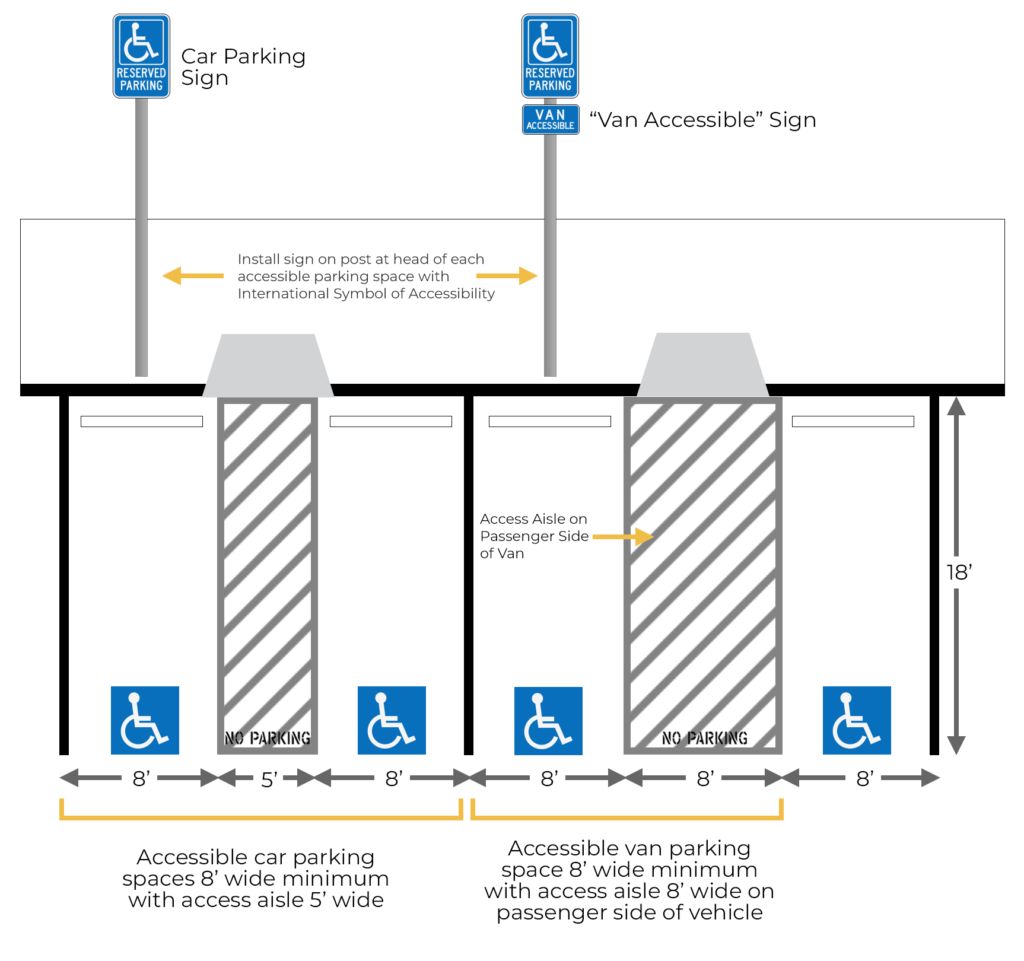 Care and Upkeep of Accessible Parking Spaces
Parking spots assigned for handicap-access, their adjoining aisles, routes and through-ways must be kept clean and free from debris at all times. Cracks and potholes should be filled and leveled immediately. Rubbish, fallen leaves and twigs, loose pieces of aggregate, ice, mud and other debris should be removed regularly to prevent obstructions that can lead to accidents.
It is also important for the parking surface to be level and even to ensure that wheelchairs and other mobility aids do not coast or slip as the disabled individual exits the vehicle and moves towards access ramps and entryways.
If you are a contractor or property owner, the best course of action is to familiarize yourself with the governing laws and rules for handicap-accessible parking in your area to avoid penalties. This will greatly benefit not only your business but especially the community in general. Join our Ultimate Line Striping Course.